Custom Corrugated Counter Displays
Temporary corrugated cardboard counter displays are an ideal way to roll out your product in a cost-effective way.
Our lightweight temporary cardboard counter top displays are ideal for POS (point of sale) opportunities in most retail locations. Counter display racks can be designed to hold any product you want to launch into any grocery, pharmacy, or convenience store environment. 
Table Of Contents For This Page
As an original manufacturer of corrugated counter displays, we have communicated and worked for hundreds of brands including big box stores to bring their promotional scheme into reality. This elevate brands' ROI and sell-through rates.
General Applications For Cardboard Counter Displays
Corrugated counter displays are often used to ship small volumes of products fully stock to retail stores. Or these can alternatively flat packed into carton to ship to retail stores and assemble on site.
POS Counter Display Types
We have multiple substrates from which to choose to ensure we are creating a marketing vehicle that will be structurally sound and cost effective. Let us help you design the perfect in-store POP cardboard counter display stands for your products
No need to worry about cost of customization. All structure design are free. There is also no print tooling charge, start with 1 pc. Pieces of cardboard are easy to set up with our assembly instructions.
Counter Display with Hooks
Depends on different product packaging type, hook counter units are fit for bagged or carded items to showcase in retail stores. Hook length start from 1" to host any quantity of items.
With a rotating base, the whole display is interactive with shoppers-by. This increases the sell through rate greatly. Placed over the counter is a last foot step toward selling.
Wanna a complete range?
There are more than 300 items in this catalog, you can leave us you email here and our experienced engineer will contact with you within 24 hours.
Estimated Cost Analysis For POS Counter Displays
Cost of a POS pallet display at manufacturer end can be break down into raw material and production cost. While at buyer's ends, there are also shipping cost and tax factors to consider at landed cost. Kitting cost are something inbetween depends on where the displays are assembled.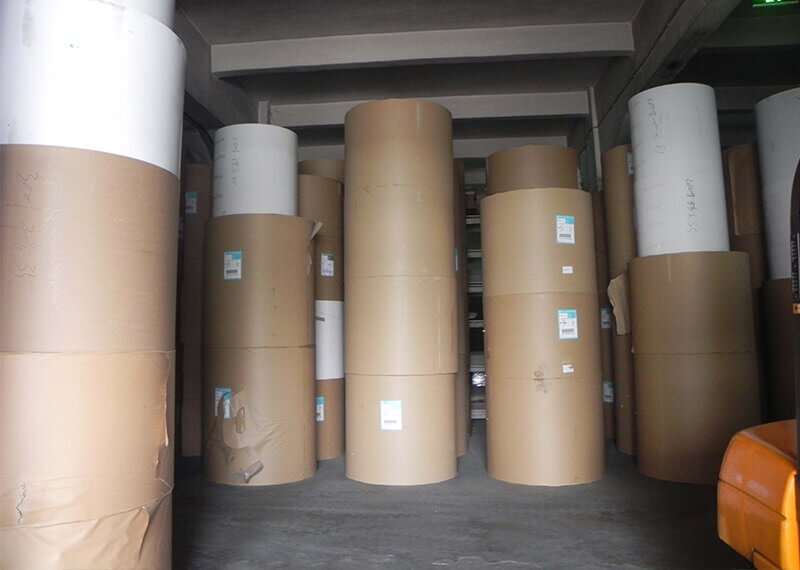 Paper material cost - $800/T
Paper raw material price fluctuates from around $500/T in 2008 to $1200/T last year in 2021. For each display, the cost of paper depends mainly on the area of paper used. We design to maximize weight bearing capacity while minimize the amount paper used.
Printing cost - $0.3-1.5/print
Printing is very much a fixed cost. Assuming one KBA printing machine runs 24 hours a day with very stable running speed and skilled workman, the everage cost varies depend on sheet size from $0.3-1.5 per print.
Paper mounting and diecutting cost- $0.02-0.25/sheet
Besides the paper mounting and diecutting unit cost for each paper sheet, there will be a tooling cost for each cutting table at $25. Shared tooling cost lower down when quantity increases. This is the reason why most manufacturers welcome large qty.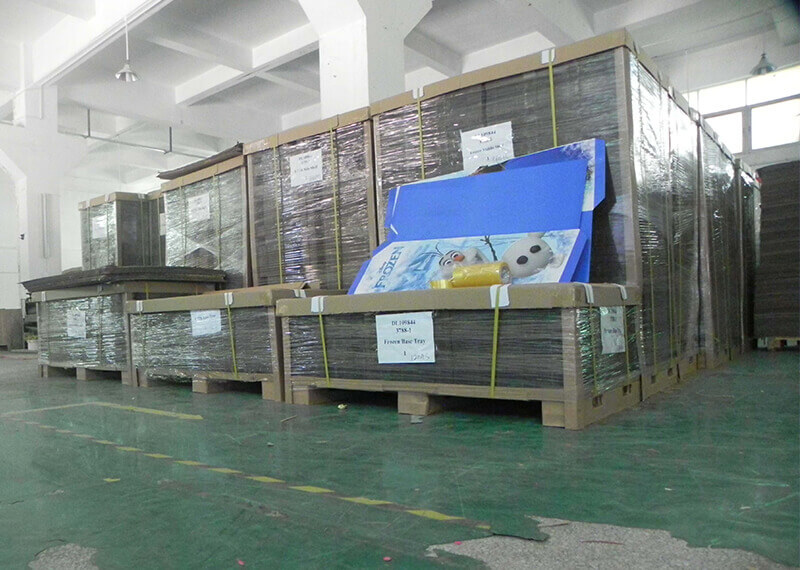 There are 2 main types of packing for a corrugate pallet display depending on where and how the displays be assembled. Economic at manufacturer end is KDF (knock down off) flat packed onto pallets, or full assembled&consolidate with products.
Freight and shipping cost - $0.1-$3.5
Shipiping cost is the most uncontrollalble factor since COVID-19 broke out in 2020. Other than that we have find practical solutions to save shipping space and cut cost down. This need to be discussed case by case. Current average shipping cost would be $0.1-$3.5 2023.
The Process Flow & Duration Estimation
Here at Packwins we strive to minimize steps for a complete customized corrugate display order. From startup sketch design through prototyping, production and shipping. Each step shall be carried out under guidelines inhouse or brands&club stores' standards.
Step 1: Idea Generate (1-2 days)
If you have or need a concept, we can assist you in making it a reality. We will walk you through and nail down the crucial variables to facilitate structural design by interacting with our experienced designer.
Step 2: Prototyping (1-2 days)
If you're okay with the design, we'll create a tangible sample. Before proceeding into large production, feel the sample with your hands. Particularly for a new client or project. This step helps save time and avoid issues at the first stage.
Step 3: Get Raw Material (1-3 days)
Once display structure and printing artwork been aproved by customer after reviewing sample, we shall issue PI for downpayment and start to prepare raw materials. Rolls for printing and corrugate core plate should be cut into size before production.
Step 4: Bulk Manufacturing (7-15 days)
As everything been  nailed down and materials getting prepared, we start production from printing. Each sheet shall go through surface treating, paper mounting, diecutting, pasting and packing. Photos or videos shall be taken for customers to let you sleep at ease.
Step 5: Shipping (12-28 days)
Bookings be made in advance of the completion of the production. Air freight and maritime freight have different transit times. We'll go over each case individually.
Want to know how to compress lead times?
In case you have an urgent order that need to be fulfilled less than our regular lead time, let's discuss it here. There are alternative printing methods to offset, ie digital print direct to corrugate, and cut by laser cutting machine. Any thing is possible here.
The Basic Knowledge About POS Counter Displays
While product and price point are important factors in any brand's success, we help many brands achieve high sell-through percentages with packaging and pallet displays year after year — we're part of a successful combo.
Design-Driven Retail Revolution with Corrugated Cardboard Displays. Discover the Perfect Blend of Innovation and Manufacturing Excellence.
The Common Pitfalls When Purchasing
A variable factors in communication and execution can bring corrugate pallet display to be a failure. At Packwins we have taken notes on nagative factors from among the industry to avoid any in our practice so that clients like you sleep at ease.
One of the crucial failure for a corrugate pallet display case in Cardboard Display industry we have heard about in the last 10 years was weight bearing capacity issue. This occurs ofen because of miscommunication and incorrect flute direction used when doing paper mounting.
Color consistence is another aspect that all brands and retailors care about. This is quite a technical part in printing. 2 main reasons that leads to color inconsistence. One is due to carelessness of printer who mistakenly ignored one or 2 colors, the other one is lack the ability.
Maintaining displays after drop shipping is as much important as the display design itself. Like the case in above second one, the curved shape came off from the main body. This can be done simply by shopkeepers to refill or check if every parts are in good condition. That won't cost any extra penny. 
Design of packing is vital during shipping. Taken all the parts for a single display into consideration, and stock height in the container properly so that no carton be crushed.
A Brief Self-Nomination​, Why Choose Packwins?
Packwins is a structrual design, manufacturing and trading combo in point of purchase display industry. The key to our success in the early stage is design. Nearly every manufacturer can do with a box, but only a few can create a display with robust structure.
Packwins understands the paper industry from a sustainable development view.  We respect the nature and environment and have a deep knowledge on paper material costing. This helps us keep our clients' cost down. 
Consultative, understanding retail.
Creative, award-winning structural design
Great action, reliable in printing, manufacturing.
Care for customers opinion, quick answer to client's request.
We like to be involved in the early design stage of a pos pallet display. This way we both on the same line and gets 100% guarantee that what we've done meets up all your expectation.
The FAQs About Point of Purchase Counter Displays
Customers are free to ask questions online, via email, since you are always be back up by a professional team at Packwins. Here below are some of the frequently asked questions to clear out your concerns and doubts.